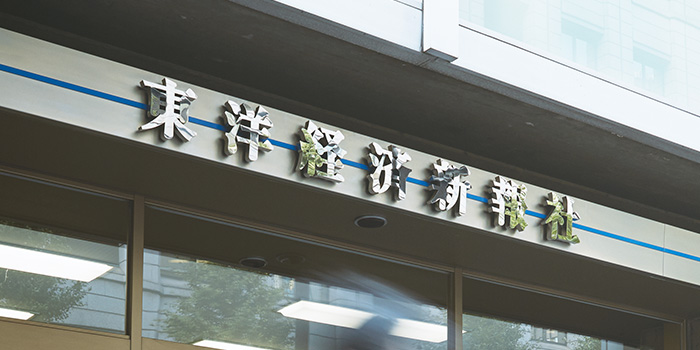 TOYO KEIZAI INC.
Foundation
1895
Capital
100 million yen
President
President Kenichi Komahashi
Business
publication of magazines
books
Digital Media
Database
Promotion
Headquarters
1-2-1 Nihonbashi Hongokucho, Chuo-ku, Tokyo 103-8345, Japan
Phone: 81-3-3246-5551 Fax: 81-3-3279-0332
info@toyokeizai.co.jp
Delivering a unique level of accurate,
reliable economic and business data and analysis
With a continuous history of 117 years, Toyo Keizai Inc. is a leader in business publishing and a trusted commentator on Japanese politics and economics, always from a liberal perspective.
From magazines such as the Weekly Toyo Keizai, books on economics, management and business, and a variety of other publications, to our on-line corporate information services, we provide a highly diversified range of business-related content.
In particular, we are trusted by rating agencies worldwide as the sole provider of a vast store of information on all publicly traded companies in Japan, including earnings estimates based on our independent research and analysis.
In the current economic situation, it is essential to be able to map out coming trends by instantly selecting and fitting together the right pieces of information from the flood of data now available. We deliver a range of highly reliable and unique content to meet these needs at a professional level.
For sharper analysis, we stay one step ahead
Weekly Toyo Keizai
115 years have elapsed since the first issue of the Weekly Toyo Keizai in 1895. With the longest history of any weekly magazine in Japan, and the largest total number of issues published of any Japanese magazine, this is a general publication for those who take business seriously.
We only investigate issues that are worth knowing about, and provide both breaking news and sharp analysis. This is the business magazine in Japan, an essential tool for executives, businesspeople, analysts and investors. We also publish special editions offering in-depth coverage of a wide range of issues.
Business and investment journals
From management and business journals focusing on the concerns of business professionals to guides for general investors, we bring to each of our broad stable of titles a wealth of information, data and a sharp analytical capability.
The main management and business titles in this category are Kinyu Business (Financial Business), Hitotsubashi Business Review and Think!, in addition to Kabushiki Weekly (Weekly Stocks), which are aimed at investors.
Interpreting the past, present and future,
to offer a practical, thought-provoking read
Toyo Keizai Inc. prides itself on its tradition of liberalism. We supply literature that helps readers study the lessons of the past, manage the present, and focus accurately on future trends.
Toyo Keizai books cover a broad spectrum, from issues of democracy and world peace to work and lifestyle guides. Our principal categories are:
Economics, focusing on the Japanese economy
Business and Management, including illustrated, self-development guides
Lifestyle, dealing with health and pension management
Academic texts, including writings and theoretical works by economists
Society and History, and Large-scale publications, e.g., statistical volumes.
Business Information Service
World-class corporate data for business, investment and career-development
The Kaisha Shikiho (Japan Company Handbook) series
The one essential tool for investors and anyone doing business in Japan
First published in 1936, the Kaisha Shikiho is Toyo Keizai'flagship data book. Based on meticulous research by our staff, it appears once per quarter, carrying the latest information on Japan's about 3,700 listed companies. Our highly-regarded earnings estimates are trusted by both investors and professionals at the leading edge of business. We also publish large-print and CD-ROM editions.
The English version, called the Japan Company Handbook, covers about 3,700 companies including the First and Second Sections of the Tokyo Stock Exchange, as well as JASDAQ and other exchanges. Because the Japan Company Handbook is a detailed, accurate translation of the Japanese edition, overseas investors, securities analysts and others following Japanese business regard it as the most trustworthy guide to Japanese companies.
The popular Shikiho series totals six publications, including the Unlisted Company Handbook, Kaisha Shikiho for Pros 500, Yakuin (executive officer listing) Shikiho and Shushoku (employment) Shikiho.
Databank series
Providing fast, reliable solutions from accumulated experience in data services
Toyo Keizai'Databank series gives you a distillation of the best of our independent research using our vast store of data collated over more than 100 years.
The main titles are Chiiki Keizai Soran (Directory of Regional Economies), Toshi (City & Town) Datapack, Zenkoku Ogata Kouriten Soran (Directory of Large-scale Retail Stores in Japan), Nihon No Kigyo Group (Japanese Corporate Groups), Kaigai Shinshutsu Kigyo Soran (Directory of Japanese Companies Abroad), Gaishikei Kigyo Soran (Directory of Foreign-owned Companies in Japan), and CSR Kigyo Soran (Directory of CSR Corporations). Each title in this series presents its contents in logical, easy-to-reference categories that meet the needs of business professionals.
CD-ROM series
Huge volumes of data in compact, easy-to-use, easy-to-store discs
Toyo Keizai Inc. compiles and markets many CD-ROM versions of its most popular data publications, including Kaisha Shikiho, Kabuka Chart (Stock price charts), and a compilation of the first two called Toshi no Kamisama (The Investor'Guardian Angel), all of which draw on our various databases.
Each not only serves as a database in itself, but also includes software that enables users to easily search for the information they need and put it to use.
Internet-based products
Reliable data at your fingertips
Because we were an early adopter of high-volume data transmission systems, we were quick to put our many databases on-line and make them available over the Internet, using services such as our proprietary Toyo Keizai On-line Website.
Toyo Keizai On-line
This subscription-based Website provides compact, high-quality information, based on our independent research and analysis. Essential items for assessing corporate value include earnings statements and forecasts, new products, and M&A information. Subscribers pay a small fee to access real-time information from Shikiho Sokuho (the Shikiho News Alert) and other corporate, industrial and stock prices data.
What you can access through our on-line services
Toyo Keizai'corporate data is delivered electronically to users in Japan and abroad through various information vendors and portal sites, securities houses, on-line trading sites and other media. The data carried on these sites is backed by our century-old brand, based on the trust we have built up with users worldwide.
Some of our clients
Bloomberg, factiva, FactSet, G-Search, Jiji, LEXIS-NEXIS, Nikkei, NRI, RIMES, S&P, Thomson Reuter, QUICK, Infoseek, NIFTY, Yahoo! Japan
Proprietary sites run by securities houses
Database sales
Supplying the most robust databases in Japanese business
to help our clients create winning strategies
Since we unveiled Japan'first wholesale price index in 1902, Toyo Keizai Inc. has created vast databases. They are available to financial institutions, universities, think tanks, corporations, and government agencies and ministries.
These databases are the de facto standard in corporate information and earnings estimates in Japan. As a service to help clients create their own databases, we also offer the Toyo Keizai Power Base. This enables easy daily maintenance of earnings estimates and updated balance sheet data, and can be downloaded to PCs using included software.
Corporate advertising that catches the reader'eye
Original joint projects create strong client satisfaction
The goals of corporate advertising are diversifying, in line with changes in the business environment in areas such as IR, CSR, corporate branding and recruitment. Given the current dramatic scale of these changes, the advertising industry must be able to tailor services to match the rapid pace of new developments.
We make optimal use of each advertising medium and present project plans that are flexibly geared to client needs. In the case of the Weekly Toyo Keizai, which is celebrating its 110th anniversary, we created original joint projects ("usiness Aspect・and "usiness Core・ which hinged on lead articles of high reader interest effective advertising tailored specifically to our reader profile.
Varied lineup of media capable of meeting a wide range of needs
At the same time, our clients appreciate our corporate advertising specials, which take up issues of reader interest in a timely way using easy-to-follow page layouts and top-quality writers, including document request services that employ both post-cards and the Internet.
In addition to meeting client needs through our varied lineup of titles such as Kaisha Shikiho, Kinyu Business, Hitotsubashi Business Review and Think!, we aim to create still more appealing advertising through 'composite' projects drawing on the strengths of a variety of titles and media.
Working to build a sustainable future for Japan'corporate society
Green Reporting Award and Sustainability Reporting Award
Green Reporting Award was created jointly with Green Reporting Forum in 1998 to raise awareness among Japanese corporations of environmental disclosure, and to improve the quality and volume of environmental reporting.
Since then, the number of companies participating in the award program has risen to over 400 in 2009, reflecting increased corporate awareness of environmental issues. In addition, in 2004, we established our groundbreaking Sustainability Reporting Award. We consider this a contribution to the sound evolution of Japan'corporate society.
Ishibashi Tanzan Award
In 1980, this award was established by the Toyo Keizai-backed Ishibashi Tanzan Memorial Foundation, in lasting recognition of the invaluable ideas and contributions of Ishibashi Tanzan, the fifth president of Toyo Keizai Inc. The annual award is made for published essays and books dealing with the themes of liberalism, democracy and pacifism, in the political, diplomatic, economic and cultural spheres.
Takahashi Kamekichi Memorial Award
The Takahashi Kamekichi Award was established in 1984, with the cooperation of the Takahashi family, in recognition of the achievements of Takahashi Kamekichi, who, after stepping down as Weekly Toyo Keizai executive editor, spent the rest of his lifetime as an opposition economic commentator. Every year we invite contributors to submit essays on specific economic themes and select winners based on original thinking.